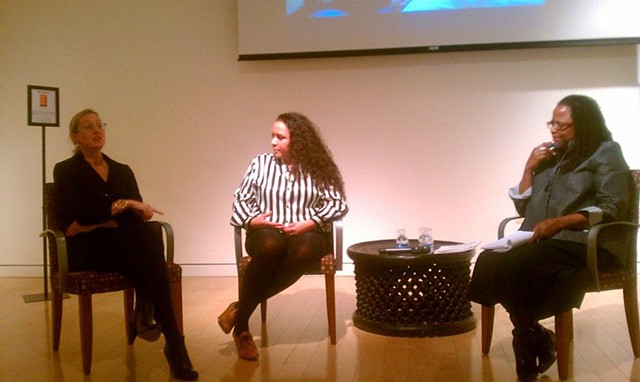 ARTIST'S CONVERSATION | SHIFT: The Love Renegade Series with Elizabeth Axtman and Meg Shiffler
Elizabeth Axtman, Meg Shiffler and Carol Marie Daniels in conversation @Museum of African Diaspora
2011
".........a conversation with Bay Area/New York – based artist Elizabeth Axtman and San Francisco Arts Commission Gallery Director Meg Shiffler as they discuss Axtman's new body of work The Love Renegade, currently featured in the SFAC Gallery's multi-site exhibition SHIFT. For the past year Axtman has been making work that asks: What would it be like to project love and forgiveness, instead of hate and anger, at individuals who engage in public acts of racism? They'll discuss the concept of forgiveness, and specifically how it manifests in the works created for The Love Renegade series. Axtman's current video documentary, The Love Renegade #308: I Love You Keith Bardwell (Phase 1) is on view at six local cultural institutions, including Museum of the African Diaspora. This conversation is moderated by Carol Marie Daniels.
Elizabeth Axtman is a photographer and video artist who engages the African American experience though myriad historical and popular references that seek to turn the dialogue on race and gender on its head. Her video and photo-based works engage race and power in the contemporary age; steeped in humor, defiance, and confrontation.
Meg Shiffler assumed the role of Gallery Director for the San Francisco Arts Commission in 2005. She is also a faculty member of the School of Interdisciplinary Studies at the San Francisco Art Institute, and a columnist for SFMOMA's Open Space blog.
Carol Marie Daniels is the SFAC Project Manager for Public Art and Civic Art Collection. Her work with the Art Commission's contemporary art collection involves managing ongoing conservation for over 200 objects acquired over the past 25 years through the city's Percent for Art Legislation"